35+
Years of Aviation Experience
100%
of Our Consultants are Aviation Experts
100+
Aviation Clients Supported
About Beijing Capital Airlines
Rishworth Aviation partners with Beijing Capital Airlines to offer Pilot jobs on the A320 based in China. All positions are currently filled. Please REGISTER with us and ensure your profile is up to date so we can contact you if any positions become available.
Beijing Capital Airlines offers excellent terms for A320 Captains. There are various commuting and non-commuting options, with bases available in Beijing, Qingdao, Sanya or Hangzhou. Excellent pay of up to US$300,000 net per year after income tax has been paid in China, and generous benefits, including US$5,000 Joining Bonus, Annual Completion Bonus, Safety Bonus & Education Allowance are provided.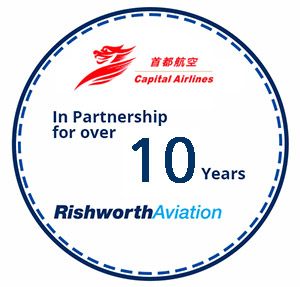 Beijing Capital Airlines is undergoing an exciting transformation, with the Beijing Municipal Government investing in the airline to take a 89% shareholding in 2019. This shareholding will see the airline take an ambitious direction, looking to open new international routes and aiming to be in the top 5 airlines in China.

Beijing Capital Airlines was established in 2010. The carrier provides both domestic and international scheduled and charter services to over 65 destinations. The airline will transfer its hub operations from Beijing Capital Airport to the new Beijing Daxing International Airport upon its completion. Beijing Capital Airlines utilise a fleet of over 80 narrow and wide body Airbus 320 & 330 aircraft.
​
Pilot Benefits Include:
Commuting and non-commuting roster options

Joining Bonus of US$5,000

Annual Completion Bonus, Safety Bonus & Education Allowance provided

Earnings up to US$300,000 per year net of Chinese income taxes

Unlimited ID80-90 tickets on HNA Group network

New Year and Christmas vacations


Minimum Requirements:
Total Time: 3000+ hours

PIC time on A320Fam: 500+ PIC hours

Currency: Last flight as A320 Captain within 12 months

Age: 52 years or under at joining

ICAO ATPL with Valid A320 Type Rating (PIC)

No criminal record and no history of accident or incident
​
Rishworth Aviation Beijing Capital Airlines Pilot Support
Rishworth Aviation has an experienced and dedicated team who speak both English and Chinese, based in China and at our office in Auckland, New Zealand. Our knowledgeable team people will assist you during the application, screening and start of contract process and in adapting to working and living in China. ​​
Operating from China
The People's Republic of China is the largest country in East Asia. The country boasts the oldest continuous civilisation and the oldest written language system in the world. Chinese culture includes a vibrant array of art, literature, painting, paper art, calligraphy, opera, poetry, cinema and music; making for a colourful and exciting experience for pilots choosing to live in this fascinating country.
Available bases for these A320 Captain Pilot jobs include Beijing, Qingdao, Sanya or Hangzhou. All incredible destinations in China for living and/or working, read on to find out more.

Beijing is the Nation's political, economic and cultural centre, located in the north of China, and has become one of the most popular travel destinations in the world with over 4.4 million international visitors per year. As one of the six ancient cities in China, Beijing has been the heart and soul of politics throughout its long history and consequently there is a huge wealth of culture and history to discover for travelers and expats alike.

Qingdao is located in the southeast part of Shandong Province, in the Northeast of China is a beautiful seaside city with clear air and beautiful sea views. The city, bordered by the Yellow Sea on two sides, has the largest bathing beach in Asia and produces the mellow and internationally popular Tsingtao Beer.


Sanya is situated on the southernmost tip of Hainan Province. The location between 180°9′ and 18°37′ latitude gives it a tropical climate. With around 200 kilometers of beautiful coastline, this coastal city has many natural attractions. Possessing a number of excellent harbors, Sanya is an important port for import and export of trade with foreign countries and as such is named the 'South Gate of China'.

Hangzhou is the capital of Zhejiang Province and the local political, economic and cultural center. The city is located on the lower reaches of the Qiantang River in southeast China, a superior position in the Yangtze Delta and only 180 kilometres from Shanghai. The subtropical monsoon climate contributes to varied seasonal sceneries, making Hangzhou one of China's most popular travel destinations year round.
Pilot Life at Beijing Capital Airlines