Benefits:
Dynamic & exciting location - Hanoi or Ho Chi Minh base
Choice of Roster Patterns: 5x1,6x1,7x1,8x1
National airline
Proven contract for expats for 20+ years
Commute or Non-Commute - tickets on airlines network
Minimum Requirements:
5000+ Total Flight Hours and 2000+ Total Multicrew PIC Hours and 1,000+ A350 PIC Hours
Last flight on A350 within 12 months preferred, but flexible if you have a valid type rating/PPC acceptable to the airline
Valid ATPL with valid A350 type rating, A350 OPC and a Valid Class 1 Medical
Height: above 165cm for males and above 160cm for females
Under 60 years of age for males and under 55 years of age for females

Apply now!

We regret that only candidates meeting the minimum requirements will be contacted.
---

Rishworth Aviation in Vietnam
Rishworth Aviation has been proudly recruiting flight crew for Vietnam Airlines since 2000 and have a dedicated team, including pilot representatives who will ensure you receive the very best service while living and working in Vietnam.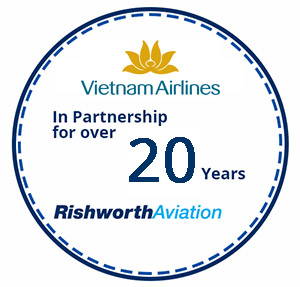 Testimonial
​"Vietnam Airlines and the Rishworth Aviation team have been very efficient, friendly and helpful right from the start, in making Vietnam an amazing experience for my family, and for me."
J M Solis, Captain (A320), Vietnam Airlines

Local Pilot Support in Vietnam
Rishworth Aviation has an established Pilot Support Group (PSG) that offers you friendly, practical, on-the-ground support that you can call on 24 hours a day, throughout your Vietnam Airlines job contract and beyond. Our PSG representatives are senior Vietnam Airlines pilots living in Vietnam who have a wealth of first-hand experience and who have a passion for the wellbeing of their fellow pilots at Vietnam Airlines.

The PSG meets with new contract pilots on their arrival to ensure a thorough induction to the systems and protocols of Vietnam Airlines as well as Vietnamese life in general. The PSG is also available to give you general support and guidance on an ongoing basis throughout the term of your contract at Vietnam Airlines.