35+
Years of Aviation Experience
100%
of Our Consultants are Aviation Experts
100+
Aviation Clients Supported
Pilot Jobs in Oceania
We are seeking:
ATR 42/72 Captain, Non-Type Rated considered
​
​Fiji Airways Pilot Jobs
We're proud to partner with Fiji Airways (formerly Air Pacific) since 2005. We are seeking: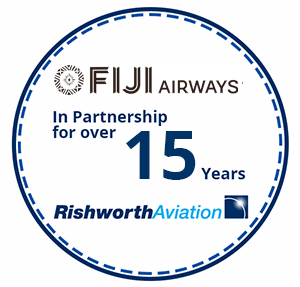 ​
Rishworth Aviation has extensive experience working with aviation companies and Pilots in Oceania. Please REGISTER with us and ensure your profile is up to date so we can contact you when new Pilot jobs become available.
​
Oceania Pilot Jobs Outlook
According to Boeing, and additional 108,000 Pilots will be need in Asia-Pacific (excl. China) between 2021 - 2040. Pilots looking to work in this region will have excellent long-term career prospects as regional and international connectivity grows.
Oceania Pilot Testimonial
​"Not having worked for an agency before, Rishworth led me through every step of the way to working in this beautiful part of the world. The transition from working in Europe to the South Pacific couldn't have been easier."
- K. Filmer, Captain (B737), Fiji Airways