35+
Years of Aviation Experience
100%
of Our Consultants are Aviation Experts
100+
Aviation Clients Supported
We are currently looking for A330 First Officers

Operating from Kigali, Rwanda, as its hub in the heart of Africa, RwandAir is one of the fastest growing airlines on the African continent. RwandAir operates in over 20 locations, spanning Africa, Middle East, Europe and Asia, with planned expansion to the US and China. RwandAir is a member airline of the International Air Transportation Association (IATA) and is an EASA, IOSA and ISAGO, certified operator.

In 2018 the ICAO audited Rwanda's aviation sector, and it was found to be operating well above the average global standards. In parallel to this, Rwanda is part of the Single African Transport Market Initiative (SAATM), aiming to improve intra-Africa efficiencies and competitiveness. These factors provide a very positive outlook for pilots looking to fly in Africa with RwandAir.
​

Above: Rishworth Aviation Executive Director Torkel Waak (Rtd B744 Captain) & Recruitment Consultant Cristina Onisor with RwandAir pilots in Kigali.
​Rishworth Aviation and RwandAir
Rishworth Aviation has been providing contract pilots to RwandAir since 2010 and offers pilots jobs to fly for RwandAir with an open-ended contract, with upgrade possibilities for Captains and First Officers on the B737NG, A330, CRJ900, & Dash 8-Q400. We have a dedicated RwandAir team based in Europe who will ensure you receive the very best service while living and working in the vibrant and colourful city of Kigali, Rwanda.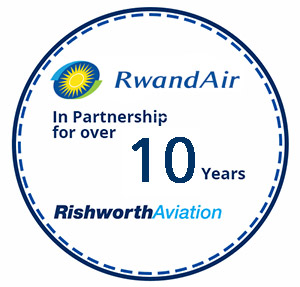 ​
RwandAir Awards
RwandAir's commitment to building a world-class airline has seen them ranking among the best airlines in Africa, while also being competitive in the rest of the world.
The 2022 Skytrax Awards recognised RwandAir as the ️Best Airline Staff in Africa for the second time in a row, Best Cabin Crew in Africa, and ️Best Airline Cabin Cleanliness in Africa.
The 2021 Skytrax Awards recognized RwandAir as the 2nd best regional airline in Africa, and also the most improved airline in Africa.
​
RwandAir Pilot Testimonial
First Officer Kuimba has been on assignment with Rishworth Aviation at RwandAir. He shared some of his thoughts of his time working with Rishworth and RwandAir so far.

"Since I began my contract with RwandAir, which is an exciting airline to join as it is fast growing, I am pleased with the service of Rishworth. In 8 months since I uploaded my CV with Rishworth online, I have found a new home with RwandAir airlines in Kigali. From the onset, with Cristina who's my agent from Rishworth, she made me aware of the various opportunities that suited me and was always available either by email or Skype call to attend to my needs.

Rishworth is able to provide me with everything I need very efficiently and in a short period of time.

I feel truly blessed to be with Rishworth who thought about such nitty gritties before I had left my home base for Kigali. I feel comfortable to be in Kigali as well as it seems like everything was aligned for me to be here, with so much promise for career progression, it seems like a match made in heaven.

I can safely say I have found a reliable partner with Rishworth Aviation."
B737 First Officer Kurai Kuimba, RwandAir​

​
All RwandAir Pilot Jobs are currently filled.Please REGISTER with us and ensure your profile is up to date so we can contact you if any Pilot jobs become available.
Living and Working In Kigali
Spanning several ridges and valleys, Kigali, with its lush hillsides and bustling streets, is arguably one of the most attractive capital cities in Africa, as well as easily one of the cleanest and safest. The climate is mild with plenty of sunny weather and warm temperatures year round.

The vibrant city is the economic, cultural and political hub of Rwanda, with a mix of cultural influences including Belgian and Middle Eastern. It offers a pleasant environment for pilots wishing to live here independently or with their family with its welcoming culture, a buzzing nightlife, an established expatriate community and excellent international schools.

Many of its Kigali's most charming elements are natural, including Mount Kigali, which you can climb in just half an hour for incredible views of the neighbouring plains and mountains. Kigali's central location makes it a great base for exploring greater Rwanda, as well as in its neighbouring countries of Uganda, Tanzania.
Housing in Kigali
Apartment living is popular with expatriates and the most affordable of the available accommodation options. There are also plenty of houses for rent and including hillside villas which look out over Kigali. The most popular area for expats in Kigali is Kimihurura. This area is at the center of Kigali and is full of beautiful houses which are a higher end accommodation option.

Getting Around
Kigali boasts one of the best public bus transportation systems in East Africa, known locally as matatus. This is the cheapest way to get around Kigali, and many of the buses are new and well-maintained. Motorcycle taxis are the fastest way to get around, with helmets provided. Car taxis are also available, as well as car rental options. Major investment has been made in infrastructure, including roads, and congestion in this city has never been particularly bad.

Local Pilot Support
Rishworth Aviation offers on-the-ground pilot support to help pilots with their transition to RwandAir. Our pilot support representatives are available for you to call on throughout your RwandAir contract and beyond.
​Rishworth Aviation Pilot Support Representative at RwandAir

Captain Bethwell Igobwa
Having gained great experience with Kenya Airways I sought to explore working for other growing companies and I engaged with Rishworth Aviation in 2017. I was then assigned to RwandAir, a fast growing company in the East African region with amazing career opportunities. It has been very exciting for me working with this company and additionally offering support through the Pilot Support Representative role that I play. I have moved fully to Kigali with my family and together we are thoroughly enjoying ourselves and getting to know new people. I enjoy mentoring young pilots in their careers and generally in life!