35+
Years of Aviation Experience
100%
of Our Consultants are Aviation Experts
100+
Aviation Clients Supported
Fiji Airways A320 Pilot Jobs
Rishworth Aviation partners with Fiji Airways for Pilot jobs based in Fiji, Oceania. We are currently seeking:
​
Please REGISTER with us and ensure your profile is up to date so we can contact you when new Fiji Airways Pilot Jobs become available.
About Fiji Airways
​Fiji Airways is the national flag carrier of Fiji. The airline operates a modern fleet of A330, A350, B737-800/Max, ATR, and Twin Otters from its Fiji hub throughout the Pacific, New Zealand, Australia, Hong Kong, Singapore, Tokyo, Vancouver, and Los Angeles. Fiji Airways plays a vital role in welcoming visitors and more than 50 percent of all travelers arriving in Fiji. As a Fiji Airways pilot, you will be a part of the airline that connect the stunning islands of Fiji with the world.

​Partnering with Fiji Airways for over 25 years, Rishworth Aviation is the preferred flight crew provider for the airline. We offer everything you would expect from a leading agency, including ongoing support throughout the application & start of assignment process, comprehensive medical insurance, access to accident & illness coverage, and more.
​Fiji Airways Awards

In June 2023, Fiji Airways achieved a remarkable feat by being honored with the prestigious title of Skytrax Best Airline in Australia & the Pacific. It's demonstrating the airline's commitment to excellence. Additionally, Fiji Airways continues to excel in customer service, securing the Skytrax Best Airline Staff in Australia & the Pacific for the third consecutive year. Not stopping there, Fiji Airways has made significant strides in the Global Top 20 airlines rankings, soaring from 36th place in 2022 to an impressive 15th place in 2023. This remarkable rise allowed them to outshine other prominent carriers such as Qantas (17th), British Airways (18th), and Air New Zealand (19th).​ Join Fiji Airways today, and become a part of the success story!
​
​
Living and working in Fiji
​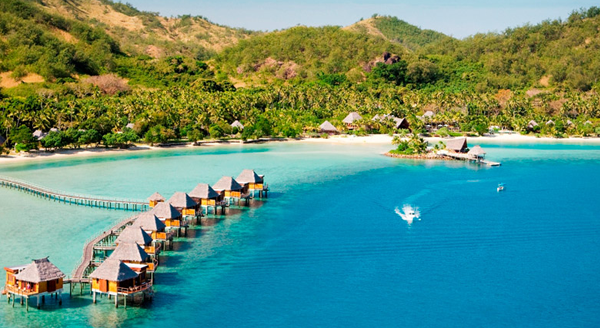 An archipelago of more than 300 islands, Fiji is famous for its rugged landscapes, coral reefs, and pristine white beaches. With a fascinating culture to experience, Fiji is the ultimate destination. Working and living in Fiji offers a unique opportunity to experience a blissful balance between a fulfilling career and a laid-back island lifestyle. With its breathtaking beaches, crystal-clear waters, and warm, welcoming locals, Fiji presents an enchanting backdrop for both work and leisure. If you fly for Fiji Airways, you can experience this tropical paradise.
And according to Boeing, an additional 108,000 Pilots will be needed in Asia-Pacific (excl. China) between 2021 - 2040. Pilots looking to work in this region will have excellent long-term career prospects as regional and international connectivity grows.
Fiji Airways Pilot Testimonial
​
"Fiji is a wonderful place for employment and lifestyle, the fleet of aircraft is very modern and the working environment is friendly and professional. I am very thankful to Rishworth for making this possible."
- A330 Captain N. Chandra, Fiji Airways
​
"Not having worked for an agency before, Rishworth led me through every step of the way to working in this beautiful part of the world. The transition from working in Europe to the South Pacific couldn't have been easier."
- K. Filmer, Captain (B737), Fiji Airways