35+
Years of Aviation Experience
100%
of Our Consultants are Aviation Experts
100+
Aviation Clients Supported
Vietnam Airlines Pilot Jobs
Rishworth Aviation partners with Vietnam Airlines to provide Pilot jobs on the A320/1, A350, and B787. All positions are currently filled. Please REGISTER with us and ensure your profile is up to date, so we can contact you if any Vietnam Airlines Pilot jobs become available.
Benefits -
Choice of Roster Patterns: 5x1,6x1,7x1,8x1

Commute or Non-Commute - tickets on airlines network

Proven contract for expats for 20+ years

Dynamic & exciting location - Hanoi or Ho Chi Minh base

National airline
​Rishworth Aviation and Vietnam Airlines
Rishworth Aviation has been proudly recruiting flight crew for Vietnam Airlines since 2000 and have a dedicated team, including pilot representatives who will ensure you receive the very best service while living and working in Vietnam.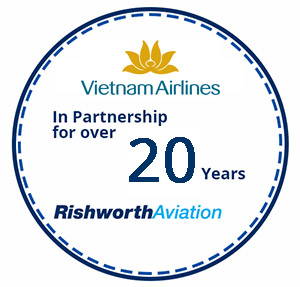 ​
Local Pilot Support in Vietnam
Rishworth Aviation has an established Pilot Support Group (PSG) that offers you friendly, practical, on-the-ground support that you can call on 24 hours a day, throughout your Vietnam Airlines job contract and beyond. Our PSG representatives are senior Vietnam Airlines pilots living in Vietnam who have a wealth of first-hand experience and who have a passion for the wellbeing of their fellow pilots at Vietnam Airlines.
The PSG meets with new contract pilots on their arrival to ensure a thorough induction to the systems and protocols of Vietnam Airlines as well as Vietnamese life in general. The PSG is also available to give you general support and guidance on an ongoing basis throughout the term of your contract at Vietnam Airlines.

Left: Captain Nicholas Guindy, Pilot Support in Hanoi; Middle: Ms Binh, Rishworth Representative Hanoi; Right: Captain Rick Nardine, Pilot Support in Ho Chi Minh City.
​
Vietnam Airlines Pilot Testimonial
"In 2014 I made the decision to look for work options outside of my country and fortunately I found Rishworth Aviation. I am very grateful that Rishworth's professional team took me by the hand and guided me throughout the process. I have now been flying for 3 years with Vietnam Airlines, which has given me and my family the opportunity to get to know the Asian culture and wonderful places both inside and outside of Vietnam, as well as to be a part of an excellent group of expatriate pilots and their families."
Captain Lara - A320, Vietnam Airlines
​
​"Rishworth's Pilots Support Representative, Captain Rick Nardine, was fantastic. He has shown great interest and has always been helpful. Rick is a real pleasure to deal with."
Captain Gutierrez - A321, Vietnam Airlines
​
About Vietnam Airlines
Based in Hanoi, Vietnam Airlines has positioned itself as an internationally recognised brand, as a young and modern carrier, fully ingrained in and showcasing the traditional Vietnamese culture. Utilising a fleet of narrow and wide-body Airbus, Boeing, and ATR72 aircraft, Vietnam Airlines operates an extensive network of domestic and regional services within South East Asia and North Asia and international services to Europe and Australia.
Vietnam Airlines is making great progress in building a modern and environmentally-friendly fleet, with the airline expected to reach 150 aircraft by 2020, with the Boeing 787-9, Boeing 787-10 and Airbus 350-900 aircraft enabling the airline to become one of the leading carriers across the Asia Pacific region, while also expanding its international network.
In 2010, Vietnam Airlines joined SkyTeam, the world's second largest global airline alliance, affirming the carrier's new position on the global aviation map as the strategic partner of the alliance in the Asia Pacific region.
Pilots Living and Working in Vietnam
Being on assignment with Rishworth Aviation at Vietnam Airlines provides a rewarding experience with a stable long-term assignment for Pilots, a choice of roster patterns to suit you with great career development opportunities including upgrades and fleet transitions offered by the airline. The low cost of living in Vietnam allows you to really make the most of the fees earned (in USD). The cost of living in Vietnam is significantly less than most major European and American cities, in some cases by as much as 50%. The cultural, lifestyle and travel opportunities are plentiful! Vietnam itself has a myriad of wonderful locations to explore and, with the rest of the South East Asia region on your doorstep, the options are endless.

​
Vietnam Airlines Awards
​The prestigious World Travel Awards 2022 recognised Vietnam Airlines as leading operator. The airline was awarded:​
World's leading cultural airline

Asia's leading airline brand

Asia's leading economy class