35+
Years of Aviation Experience
100%
of Our Consultants are Aviation Experts
100+
Aviation Clients Supported
Enter Air Pilot Jobs
We are currently seeking B737NG Seasonal Captains with Enter Air. More information below.
​
​​
Rishworth Aviation and Enter Air
Rishworth Aviation has partnered with Enter Air since flight operations began in 2010. We offer seasonal Pilot job contracts for B737 Captains in European bases.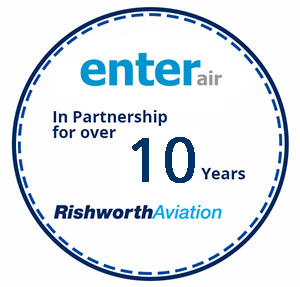 ​
About Enter Air
Enter Air is a Polish charter airline based in Warsaw. The airline operates a fleet of B737NG, and a growing fleet of B737MAX.
Enter Air operates services on behalf of Polish tour operators, including TUI Poland, Rainbow Tours, Itaka Holdings, and Coral Travel Poland. Main crew bases are Warsaw Chopin and Katowice-Pyrzowice airports.
Enter Air has grown consistently following its first commercial flight in 2010, and has shown strong signs of recovery for 2022.