35+
Years of Aviation Experience
100%
of Our Consultants are Aviation Experts
100+
Aviation Clients Supported
Enter Air Pilot Jobs
All Enter Air Pilot Jobs are currently filled.
Please REGISTER with us and ensure your profile is up to date so we can contact you if any further pilot jobs become available.
​​
Rishworth Aviation and Enter Air
Rishworth Aviation has partnered with Enter Air since flight operations began in 2010. We offer seasonal Pilot job contracts for B737 Captains in European bases.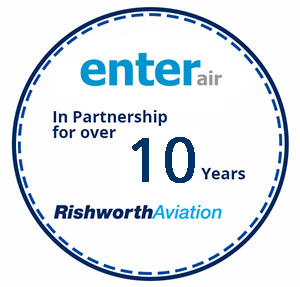 ​
Your base in Poland
B737 Pilots are based in Warsaw or other major Polish cities (depending on seasonal operations). Warsaw has a population of approximately 1.8m, and is the cultural and economic capital of the country. The city center is a welcome place for expats with fast growing public transport systems and other amenities. In 2019, Warsaw was rated by CNN as in the top 15 cities for craft beer in the world.
​
About Enter Air
Enter Air is a Polish charter airline based in Warsaw. The airline operates a fleet of B737NG, and a growing fleet of B737MAX.
Enter Air operates services on behalf of Polish tour operators, including TUI Poland, Rainbow Tours, Itaka Holdings, and Coral Travel Poland. Main crew bases are Warsaw Chopin and Katowice-Pyrzowice airports.
Enter Air has grown consistently following its first commercial flight in 2010, and has shown strong signs of recovery after the industry downturn from 2020.