35+
Years of Aviation Experience
100%
of Our Consultants are Aviation Experts
100+
Aviation Clients Supported
Wizz Air Pilot Jobs
Rishworth Aviation partners with Wizz Air to provide Pilot jobs on the A320 for Captains and First Officers bases across Europe and the United Arab Emirates. Type Rated and Non-Type Rated applications are considered.
Please REGISTER with us and ensure your profile is up to date, so we can contact you if any jobs become available.
We are seeking for Pilots with a range of experience, offering various roster patterns and career advancement opportunities. Rishworth Aviation is delighted to partner with Wizz Air to support its ambitious growth plans as it expands Europe's greenest fleet.
Direct Entry Captain Upgrade Program
This program is designed for Airbus experienced pilots joining the airline direct on a commander contract. Successful candidates will undergo an extensive Command Upgrade Program before being released as a Captain across the Wizz Air network. Now is the time to take that step up! Learn more about the Direct Entry Captain Upgrade Program.
​
Wizz Air A320 Pilot Benefits
Fixed rosters and part-time options available

Various European bases

Career progression opportunities

Commuting and staff travel benefits

Loss of licence insurance and health insurance

Cost of living compensation

Bonus scheme
​
About Wizz Air
Wizz Air is one of the leading low-cost airlines founded in 2003. ​As one of Europe's fastest-growing airlines, Wizz flies passengers on a young fleet of Airbus A320 family. They aim to fly 500 aircraft across a fast-growing network and carry over 100 million passengers per year by 2030. ​
​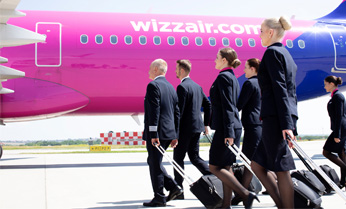 ​
Factorized Hours for Captains
​Wizz Air applies factors to Pilot flying hours to determine minimum requirements for Captains. A Pilot's hours flown on different aircraft types are multiplied, and the sum of all groups after factorization is used to determine whether the Pilot meets the minimum required experience. Please view the A320 Captain job listings below for more information.
​
Rishworth Aviation in Europe​
Rishworth Aviation has over 35 years' experience, partnering with over 100 international and domestic airlines, spanning 40 countries. We pride ourselves on providing outstanding support through the selection, screening process, and beyond from our office in Sweden.
Lisa Evans

Business Development Manager | Regional Manager

View Profile

Sean Preston

Regional Manager - Client Services

View Profile