35+
Years of Aviation Experience
100%
of Our Consultants are Aviation Experts
100+
Aviation Clients Supported
About Air Peace
Rishworth Aviation partners with Air Peace to offer Pilot jobs in Nigeria, West & Central Africa. All positions are currently filled. Please REGISTER with us and ensure your profile is up to date so we can contact you if any further pilot jobs become available.
​Air Peace was founded in 2013, based in Lagos, Nigeria. Air Peace provides passenger and charter services nationally, and operates international routes to West African and Middle Eastern locations. The airline operates a fleet of B737, B777, ERJ145, and Dornier 328. Air Peace has ambitious growth plans with orders for E195-E2, and B737 MAX in place.
Air Peace Receives E195-E2​​
​
​​Air Peace Aviation Awards
The airline was commended by the International Air Transport Association (IATA) in January 2020 for upholding high standards of safety in its flight operations. An IATA representative stated "...the safety audit process is a testament to Air Peace's commitment to maintaining high safety standards in its operations. Many airlines are not able to achieve this because they don't have the discipline and hard work which have consistently earned Air Peace this safety recognition. The certificate gives the airline a global recognition as a hundred percent safety-compliant airline".
Air Peace won Best Domestic Airline 2019 at Nigeria Tourism Awards.
​
Air Peace Testimonials
​"From day one, Air Peace welcomed me as part of the family showing me how important my role would be in the process of Embraer E2 fleet growing. Air Peace is a great place for professional advancement and my experience so far is very positive. Flying in Nigeria is very exciting too."
- B. Radulovic, First Officer (E195-E2), Air Peace​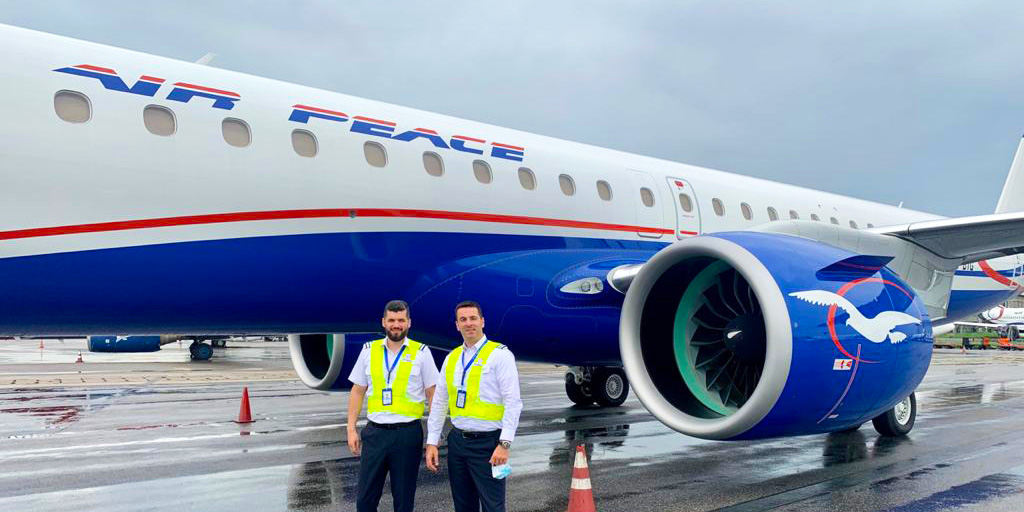 ​First Officer Babic (left) and First Officer Radulovic (right) with the E195-E2.
​
​"I am currently working with Air Peace as an Aviation Quality Auditor, thanks to Rishworth Aviation. Rishworth Aviation assisted me in landing this role with the fastest growing airline and the biggest in Nigeria and West Africa. I will forever be grateful."
​- D. Ofori, Aviation Quality Auditor, Air Peace

The Rishworth Aviation team visiting Air Peace offices in 2020. We regularly visit with Air Peace management and meet with the flight crew that are on assignment with the airline.