35+
Years of Aviation Experience
100%
of Our Consultants are Aviation Experts
100+
Aviation Clients Supported
About Asiana Airlines
Rishworth Aviation partners with Asiana Airlines to provide Pilot job opportunities. All positions are currently filled. Please REGISTER with us and ensure your profile is up to date so we can contact you if any positions become available.
Based in Seoul, with an international hub at Incheon Airport and a domestic hub at Gimpo Airport, Asiana Airlines is one of South Korea's major airlines and has been the recipient of prestigious accolades such as 'Best Airline in the World', 'Airline of the Year' and 'Airline with the best in-flight service in the World'.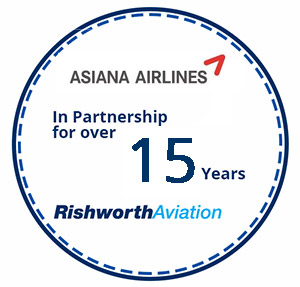 Since its establishment in 1988, Asiana has grown significantly as an international carrier, operating globally to 93 cities in 26 countries, as well as servicing 12 cities domestically. Asiana offers a well-developed network in Asia, linking key cities in China, Japan, South East and Central Asia, as well as providing flights to major cities in North America and Europe.

Asiana Airlines operates a passenger fleet consisting of A320/A321, A330, A350, A380, B744, B767 and B777 aircraft and a cargo fleet of B744F aircraft which operate to international medium to long-haul destinations in Asia, Europe and North America.
​
​
Living and Working in Korea
Rishworth Aviation has more than 20 years experience in Korea and has an in-depth understanding of the issues and challenges facing crew working in Korea. We pride ourselves on providing ongoing support to our pilots on contract.
Asiana Airlines offer an excellent standard of hotel accommodation. For those who are on a non-commuting contract, Asiana offers furnished apartment accommodation in Seoul for the full duration of the contract.
Many pilots relocate to Seoul with their families as the quality of education is excellent. South Korea, officially the Republic of Korea, often referred to as Korea, is a democratic, capitalist and developed country. Sometimes known as the 'Land of the Morning Calm', South Korea is neighboured by China to the west, Japan to the east, and North Korea to the north. Its capital is Seoul – the second largest metropolitan city in the world, with 24.5 million inhabitants, is a fascinating and vibrant city to explore and live in!