35+
Years of Aviation Experience
100%
of Our Consultants are Aviation Experts
100+
Aviation Clients Supported
Bamboo Airways Pilot Jobs
All Bamboo Airways Pilot Jobs are currently filled. Please REGISTER with us and ensure your profile is up to date, so we can contact you if any jobs become available.
About Bamboo Airways
Bamboo Airways is owned by an established and successful Vietnamese enterprise, based at Quy Nhon's Phu Cat Airport. The carrier began operations in January 2019 and has quickly grown its route network.
As part of its extensive growth plan, Bamboo Airways has placed orders for nearly 50 Airbus A321 Neo aircraft. In addition, the airline has also placed orders for 30 Boeing 787-9 Dreamliners.
With the airline's strong growth plans in mind, now is an excellent time to join Bamboo Airways and secure your aviation future. ​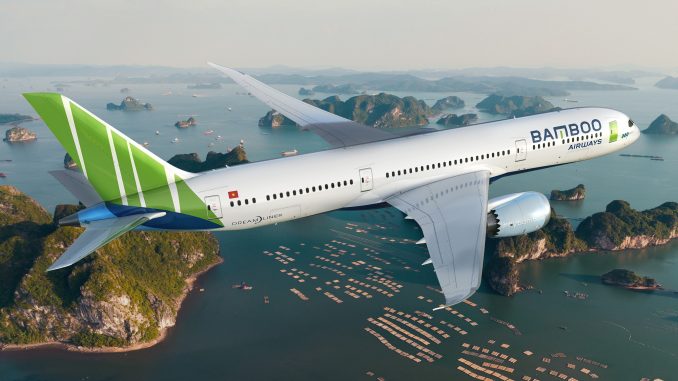 Rishworth Aviation and Bamboo Airways
Rishworth Aviation has extensive experience in the Vietnam market, having recruited pilots there for more than 20 years. Our dedicated Bamboo Airways support team will assist you throughout the application and screening process, and provide ongoing support when living and working in Vietnam.
Our pilot support representatives in Hanoi and Ho Chi Minh City are available to assist with whatever you or your family need. Rishworth Aviation arranges regular pilot events in Vietnam to help ensure that you and your family have all the support you need while on assignment.
Rishworth Aviation has a dedicated team of Bamboo Airways consultants, including on-the-ground pilot support representatives who will ensure you receive the very best service throughout the interview and screening process, and while living and working in Vietnam.​
Living and Working in Vietnam
Living in Vietnam provides pilots with an opportunity to enjoy a wonderful exotic culture, and a friendly, welcoming people. It is a bright and vibrant country and provides expats with a wide range of choice when it comes to deciding where to spend your days off.
Your two base options for Bamboo Airways, Hanoi and Ho Chi Minh City, provide a high standard of living at a low cost and expatriates and their families can live very comfortably. The cost of most things, including entertainment, housing, food, beer and travel is considerably lower than that of western countries. A supportive and fun expat pilot community will ensure that you feel welcome the minute you step foot in Vietnam and there are plenty of chances to pursue your hobbies and find new activities to become involved in.
With a choice of two vibrant and exciting base cities in Vietnam, as well as excellent terms and benefits with Bamboo Airways, now is the perfect time to explore the opportunities currently available with Rishworth Aviation.