35+
Years of Aviation Experience
100%
of Our Consultants are Aviation Experts
100+
Aviation Clients Supported
About Xiamen Air
Rishworth Aviation partners with Xiamen Air to provide Pilot jobs on the B787. All positions are currently filled. Please REGISTER with us and ensure your profile is up to date, so we can contact you if any Xiamen Air Pilot jobs become available.
Xiamen Air has consistently been awarded 'The Best Airline in Mainland China'. The airline is based in Xiamen and operates domestic and international routes on B787 and B737 aircraft, with exciting fleet expansion plans. Its majority shareholder is China Southern Airlines, and it is a member of SkyTeam.
The airline offers excellent Pilot jobs for B787 Captains with commuting and non-commuting contract options, generous monthly pay plus allowances.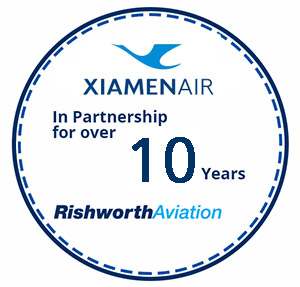 Rishworth Aviation Pilot Support in China
Rishworth Aviation has an experienced and dedicated team who speak both English and Chinese, based in China and at our office in Auckland, New Zealand. Our knowledgeable team people will assist you during the application, screening and start of contract process and in adapting to working and living in China. ​​We are there to facilitate communications with Xiamen Airlines, and ensure everything goes as smoothly as possible for you during your time on contract with us.​
​
​
​
Living and working in Xiamen
The city of Xiamen on China's southeast coast is ranked as one of the countries most desirable cities to live in. With a population of 3.5 million, Xiamen is known for its Hokkien culture, colonial architecture, manicured parks and tree-lined beaches. The climate is a huge draw for most, with a monsoon subtropical climate, the summers are hot and humid and the winters mild. Temperatures in winter averaging 17°C (62°F) and in the summer 32°C (89°F).
Expatriates moving to Xiamen will find the city modern with excellent facilities and infrastructure. The city is served by Xiamen Gaoqi International Airport, which is only a twenty-minute taxi ride from downtown. There are flights to every part of China from here, as well as international connections. Getting about is easy and there's plenty of choice: buses, inexpensive taxis and a ferry service.

Apartment living is the most popular with expatriates in Xiamen. Budget options are getting a studio or sharing an apartment. You can rent a furnished studio apartment for US$350-$600 or a larger furnished apartment for US$600-$1000 depending on the location. A sea-view two-bedroom apartment can be yours from about US$850 a month while rent in central commercial areas for this size of an apartment will be higher. If are looking for something larger for your family, a villa could be a good option with the rent is likely to be upwards from US$2000 a month.
There are plenty of amazing sites to explore on your days off in Xiamen. Gulangyu islet, arguably the city's most famous attraction, draws visitors who come to experience the recently named UNESCO World Heritage Site for its historical buildings, ranging from former European consulates to Chinese-inspired Art Deco mansions.