35+
Years of Aviation Experience
100%
of Our Consultants are Aviation Experts
100+
Aviation Clients Supported
Ravn Alaska Pilot Jobs
Rishworth Aviation partners with Ravn Alaska to provide Pilot jobs on the Dash8 Q100/300 for Captains and Senior First Officers. Type Rated and Non-Type Rated applications are considered.
Benefits include:
Competitive pay

Type Rated candidates will be offered a Joining Bonus

Annual pay increases yearly

Health & Life Insurance (Dental and Vision incl)

Future career opportunities with possibility to transition to a Jet

Commuting may become an option in the future

Preferential bidding system, based on seniority
Dash 8 Pilot Jobs with Ravn Alaska - E3 Visa Program
We are accepting applications from Australian citizens to fly with Ravn Alaska. Rishworth Aviation will provide support throughout the visa process as well as communication with the airline.
Type Rated and Non-Type Rated applications are considered.
As the US market is leading the aviation world in recovery and Pilot shortages, this is an excellent opportunity for ambitious and adventurous Pilots to make a positive career move. ​
​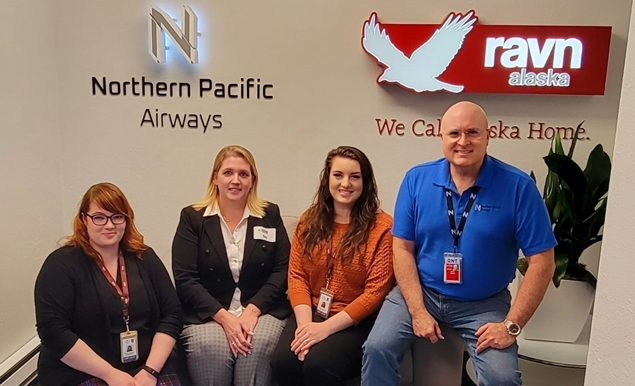 ​Rishworth Aviation representative, Tracy Marulitua (second from left) visiting the Ravn Alaska team in 2022.
​​
About Ravn Alaska
Ravn Alaska is a regional airline operating a mixture of scheduled and charter flights. The airline is majority owned by Northern Pacific Airways, which is a start up airline that will operate a fleet of B757.
​Ravn Alaska operates a fleet of 10+ Dash8 aircraft.​