Captain Nicholas Guindy started on assignment with Rishworth Aviation in March 2014 as an ATR72 Captain. Late last year he was invited to commence the transition training to A321 Captain with Vietnam Airlines. In March 2018 he was released to line as A321 Captain and has taken the time to share his experience.
​
​How did you find the transition training program?
The transition program was compact but well organized. Training was conducted at Vietnam Airlines Flight Training Center located near Ho Chi Minh City's airport.
The program consisted of CBT training and classroom training with instructors from Vietnam, France and Italy. The duration of the training was around 25 days, followed by 18 SIM sessions at the same location.
​
​What were the challenges?
A challenge coming from the ATR was the automation of the Airbus. It is so much more complex than the ATR and in the beginning of the course it was hard to get used to the new abbreviations that were introduced to us.
My experience on the ATR has given me good basic handling skills so the handling of the A321 was OK. The biggest challenge is to find out what you are allowed to do and not do in the Airbus (from a legal perspective) and all the limitations that comes with automation.​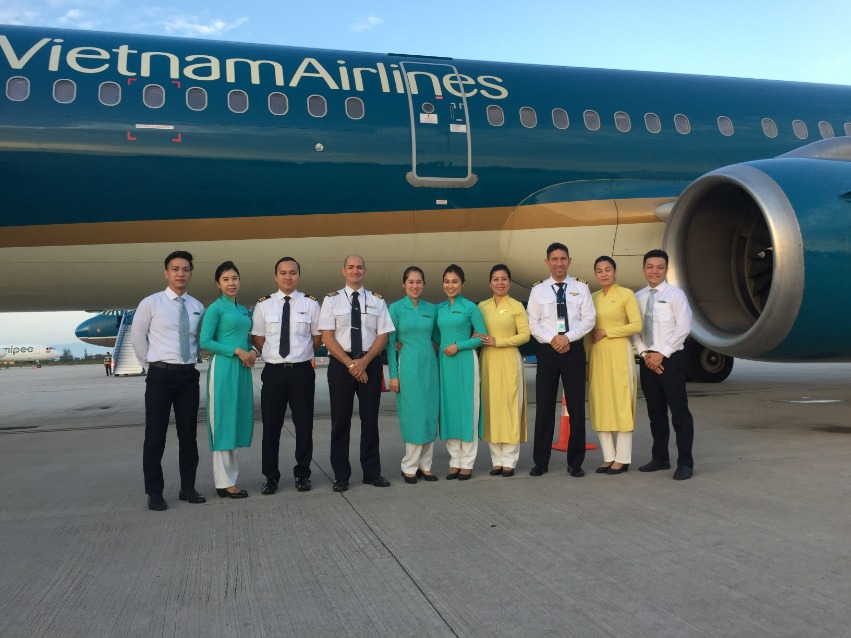 ​
What were the highlights?
The biggest highlight for me was when I first flew the A321 from Hanoi to Phu Quoc and back. I have been dreaming of transitioning to the Airbus aircraft for the last 5-6 years, and finally I'm here, flying an Airbus.

What do you enjoy about flying the A321 aircraft?
I really enjoy doing longer flights. After 11 years on ATR doing short sectors everyday, I'm now enjoying the 2-7 hour flight times we do on the A321 with Vietnam Airlines. And, of course, the A321 is a fantastic work environment for pilots.
​
What new destinations have you been to and which one is your favourite?
Since being released, I have been to Tokyo, Bangkok, Phnom Penh, Siem Reap, Luang Prabang, Vientiane, Singapore, Beijing, Kuala Lumpur and Kaohsiung. I'm excited to soon explore even more destinations in China, Korea, Indonesia and Myanmar.
Out of all the destinations experienced in my time flying for Vietnam Airlines, Singapore is my favourite. It's a 3h30min flight from Hanoi and Singapore is very well organized and the taxiing there is simple.
​
What advice would you give to crews considering a job at Vietnam Airlines?
My advice to newcomers would be to arrive with an open heart and to be prepared for things and experiences that you wouldn't experience in other countries.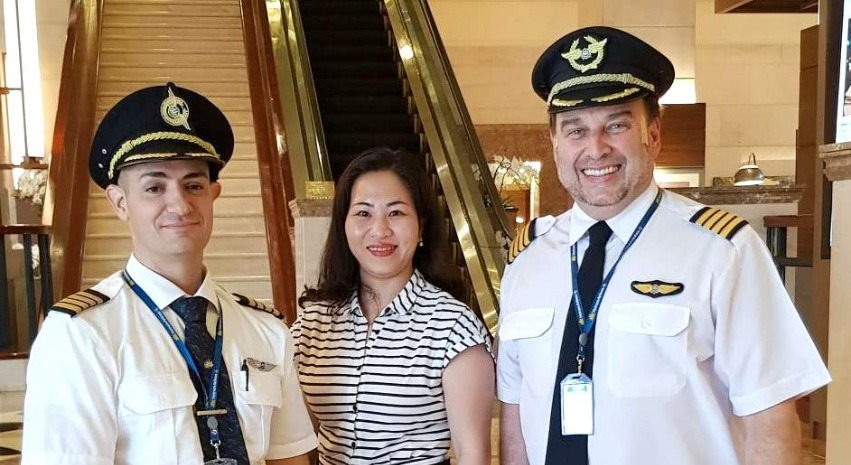 Captain Nicholas Guindy with Pilot Support Captain Rick Nardine & Vietnam Representative Ms Binh

Advance your career with Rishworth Aviation, the preferred agency of Vietnam Airlines. Rishworth Aviation is the only agency offering cashless insurance without hidden insurance excess or fees, and the most comprehensive support while on assignment to make the most of your experience in Vietnam.