Captain Robert Brandt has recently joined Korean on the B777. He shares his experience through application, screening, selection and training with Korean Air and Rishworth Aviation.
​"I am very thankful to Rishworth Aviation for being my agency, helping me with obtaining my current position as a B777 Captain with Korean Air.
"From the moment I contacted Rishworth Aviation to pursue a career with Korean Air, they were very supportive, starting from the moment I received all the paperwork until the moment I boarded the plane to start my course in Seoul, Korea. Every email I sent was answered promptly and calling them was no problem despite the 9 hour time difference!
"What I liked very much was that I had a designated "mentor", Francina, who coached me through the whole process until I started ground-school. The very big advantage of this, of course, is that you don't have to explain everything more than once. When she went on vacation her stand-in was well aware of how far my recruitment had progressed and what still needed to be done.
"After starting ground-school you are supported by another team member (thank you Judith) who will help you with any questions related to your assignment with Korean Air, such as transfer of payment to bank account(s), assistance with arranging insurance etc."
"Why choose Korean Air? It is a very well organized company, flying worldwide with an excellent commuting contract, meaning that requests for days-off are granted 99.9% of the time (even Christmas and New Year!), and business class travel provided from your place of residence to Korea.
"I am glad to be part of the team. Thank you Rishworth Aviation!"
​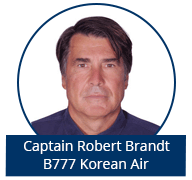 About Korean Air and Rishworth Aviation
Rishworth Aviation is an official agency for Korean Air, providing the largest number of foreign pilots to the airline for over 25 years. We offer great terms and conditions for Korean Air pilot jobs. Korean Air recruitment with Rishworth Aviation currently requires Captains for Korean Air opportunities on B747-400/800, B777, and A330 aircraft.
​
Korean Air Terms & Conditions
Very competitive monthly pay

Monthly per diems & overtime payments

Commuting contract - 11 consecutive days at home each month, or home base option

Generous travel benefits for Pilot and family – including Business Class travel for monthly commuting

5-star hotel accommodation in Seoul

Increased pay rates at contract renewal

First Officer completion bonus

Fly to age 65

Excellent proven Rishworth insurances

Flexible banking and payment options
​