​First Officers Babic and Radulovic are on assignment with Air Peace on the Embraer E195-E2. They share their experience with the airline, the new fleet, and working in Nigeria.
​Air Peace is the first airline in Africa to operate the Embraer E195-E2 fleet, with four of the type delivered as at October 2021, and another nine on order. This fleet of modern aircraft is a key part of the airline's strategy to achieve better connectedness within the African continent. Pilots flying the E2 feel the importance of the fleet to the airline, as First Officer Radulovic notes:
"From day one, Air Peace welcomed me as part of the family showing me how important my role would be in the process of Embraer E2 fleet growing. On the other hand, my expat colleagues and I, put in joint efforts with local pilots so that the new E2 fleet becomes the shining star of the company."
Air Peace is maximizing the use of the new E2 type, offering good rotations and monthly hours to pilots. In terms of flying the aircraft, First Officer Babic says:
''Everything is good and the airline is nice. Flying around 90-95 hours per month depending on rotation. It's a great experience and I'm grateful for the opportunity"
​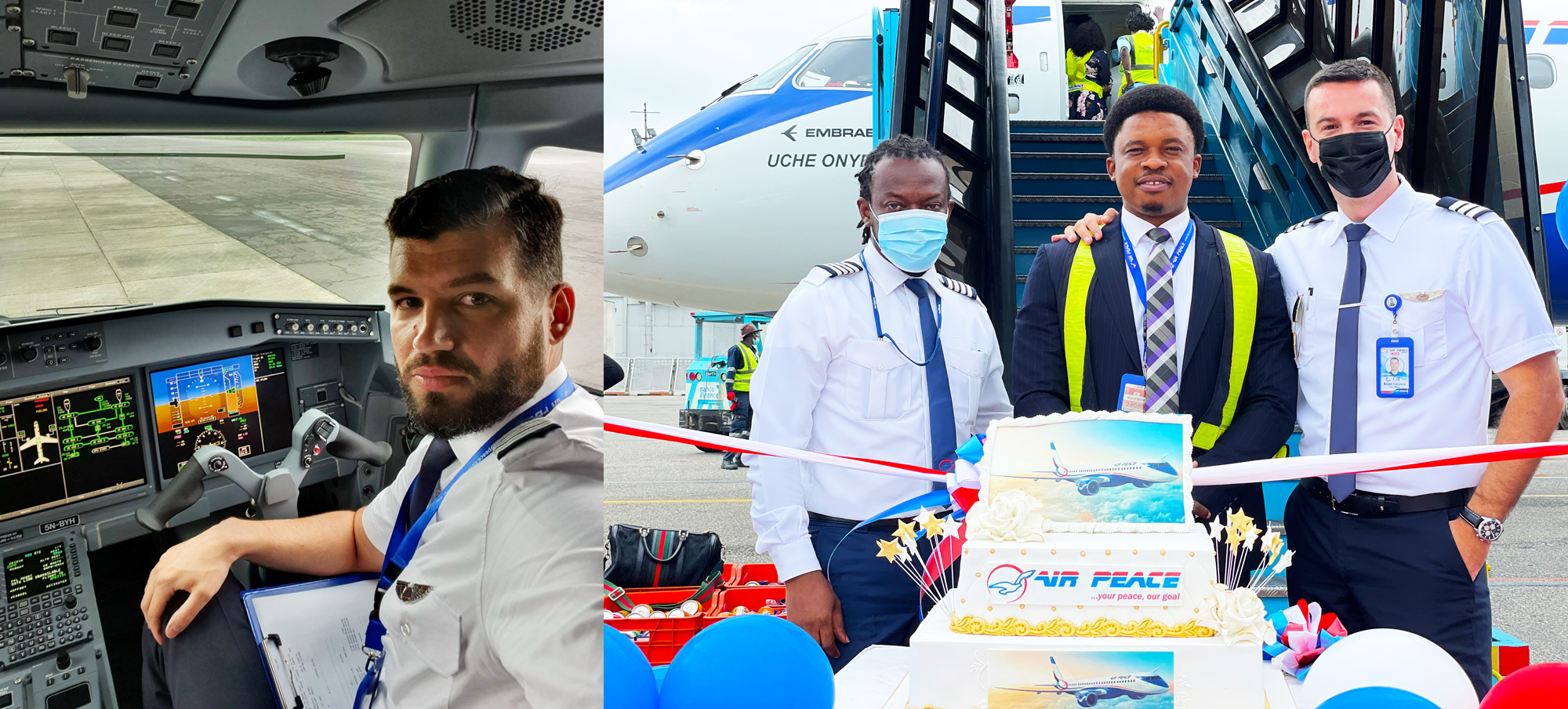 First Officer Babic in the cockpit (left) and First Officer Radulovic celebrating the flight of the E195-E2 with Air Peace staff.
​
The airline has made significant investments in fleet and personnel to position themselves as an employer of choice for crews considering their next career move.
"I'm grateful that Air peace gave me this opportunity" says First Officer Radulovic. "This is an ever-expanding company and having brand new airplanes such as Embraer E2 arriving frequently directly from the factory in Brazil is very exciting for every pilot who loves their job. Air Peace is a great place for professional advancement and my experience so far is very positive."
Many pilots are considering the African continent and specifically Nigeria for the next flying position as West Africa opens, and as flights increase within Africa, the Middle East, and further international destinations.
"Flying in Nigeria is very exciting too," says First Officer Radulovic "very dynamic with a lot of interesting flights. I also learned patience, fortitude and made some lifelong friends."
​​
Rishworth Aviation and Air Peace
Rishworth has partnered with Air Peace since early 2019 and we have successfully worked together with pilots on multiple fleets and ranks, including engineers and other support roles. We have ongoing position available with Air Peace that we invite you to register your interest for. Learn more about Air Peace >>